About Academy
TENNIS ACADEMY ELITE:
Founded: in 1997.
Place: Novi Sad
Number of courts: 6 courts-clay (+ 4 courts near the tennis center)
In 2008, the development of 10,000 m2 area of land consisting of a 3,000 m2 area office building (including the hotel apartments and restaurant), a central tennis court and a sports hall with two tennis courts was completed. The next year, the First Serbian Tennis Academy Elite started with its work.
HISTORY:
Elite Tennis Club was founded in 1997 with 5 newly built tennis courts and a small sports facility with locker rooms. The club was rapidly developing and has now become one of the most reputable clubs in Serbia. In 2008, the business building was constructed on the same area of 10,000m², as part of the tennis club. The building has 3.000m² of office space, including Elite Hotel apartments for tennis players, and a restaurant. In addition, another central tennis court was built as well as a hall over two existing tennis courts. This has created the conditions for the operation of the international tennis academy, which officially started its work on the 26th of March, 2009.
Visit us and see the advantages of organized accommodation and tennis training for yourself, ALL IN ONE PLACE, giving you more time for leisure activities.
INFRASTRUCTURE: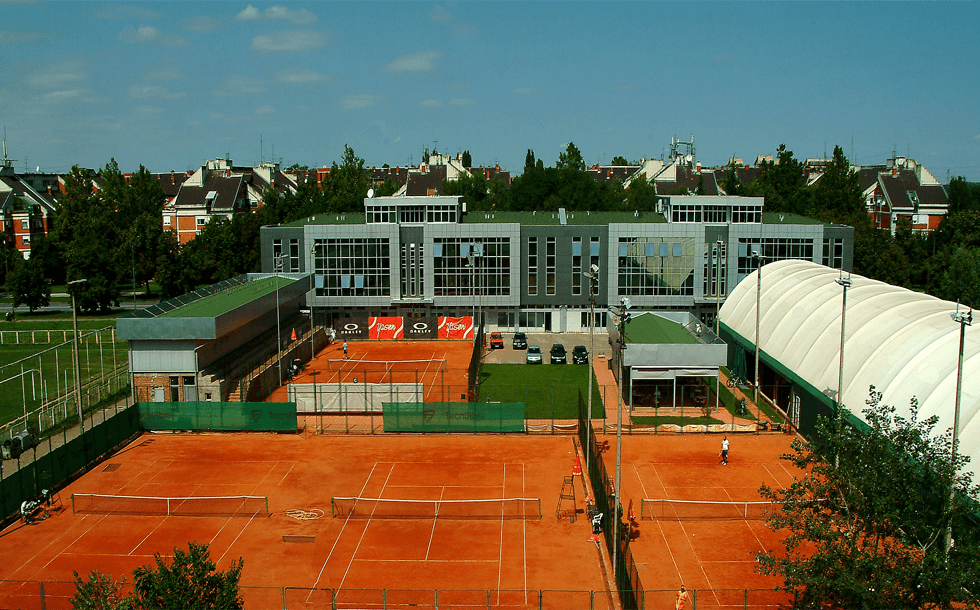 ELITE Tennis Academy currently operates on 10 tennis courts, 6 of which are inside the sports and business center. All courts have great lighting, which allows us to use the courts until 11 pm. In the summer, two courts are covered with their sides open, so that tennis can be played regardless of the weather. During the winter, trainings are held inside the Academy on 4 covered clay courts. We also rent two hard courts when needed for the preparation of our players who want to play tournaments on this surface. The summer season lasts from April 4th until November 1st of the current year (7 months), and the winter season lasts from November 1st until April 1st next year (5 months).
OUR TEAM:
There are 8 tennis coaches working in the tennis academy, as well as 2 fitness trainers, all of whom passed the coaching exam and have a valid coaching license. Within the academy we also offer the services of massage therapist, physiotherapist, sports psychologist and nutritionist. In addition, we offer Serbian lessons in English or Russian as desired, as well as English lessons. Tennis Association of Vojvodina, as a regional tennis association, is located within the same business building that is part of the Elite Tennis Academy. This is why, besides the numerous tennis tournaments, the Academy is also a host to the regional tennis camps, as well as seminars for obtaining coaching licenses.
OUR CLIENTS:
The Academy offers programs suitable for all ages and all player levels, starting from the entry level for children and adults, through the junior competitive tennis and professional level. Many successful players have been members of our Academy, including some national champions, such as Filip Grbic who was an an Under 12 and Under 14 Champion in Serbia and 6th at ETA's Under 16 ranking. The world Under 18 champion in 2014 is Ivana Jorovic a member of our academy since she was 12 years old. In addition, our occasional guests who come to prepare between tournaments are Dusan Lajovic (No. 58 in the ATP rankings) Filip Krajinovic (No. 33 in the ATP rankings), Laslo Djere (No. 89 in the ATP rankings), Aleksandra Krunić (No. 53 in the WTA rankings), and many others.
WHY ELITE T.A.?
What sets us apart from other academies is a particularly high level of commitment and a professional relationship with each and every player, regardless of their level of tennis, gender and age. Our programs are designed so that each individual gets maximum attention in order to achieve his/her personal goals regarding their tennis careers. This is achieved by frequent individual lessons, training in small groups of 2-4 players of similar age and quality, as well as constant communication between the players, coaches and parents (of younger players). This way, we achieve a pleasant and professional working atmosphere at the academy.